SPOILER ALERT : I FELT AMAZING
Now in all honesty I was meant to write this as soon as I came back from the cinema watching it but y'know, life happens. But I assume there are still so many people who meant to see it but didn't get round to it but you SHOULD.
I honestly wish this film had been around when I was a few years younger. What a brilliant story of a young woman growing up in a small town and having to decide her future. Having the cravings to discover the world but no idea how!
*Saoirse Ronan you are a brilliant actress*
Ladybird is an emotionally charged coming of age story about finding a balance between love, school and life. Where friendships hang in the balance because of affection for boys (we've all been there). How parents seem like super protective control freaks but really just have your best interests at heart and when everything feels like the end of the world.
The film focuses on a mother daughter bond so strong that it is strained but it was actually lovely to see a father daughter connection shown a lot of screen time amongst that. What a hero that guy was.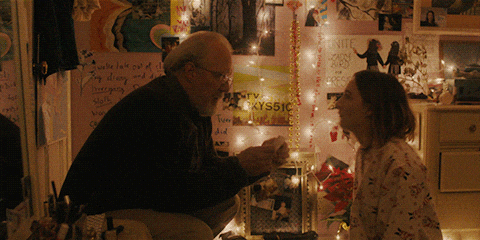 The love from 'ladybirds' mother is so protective where she sees ladybird living a life like hers, a safe, 'normal' life  as the only one and yet has to accept her daughter is destined for more.
Set in 2002 you can only imagine how it must have been for teens back then. I was only around 9 or 10 at this age and I'm thankful my  teenage years did not revolve around phones and knowing where everyone is every minute of the day. The world was still so foreign to small towns and you get such an intimate vibe from the film because of this.
*Timothee Chalamet plays the boy we all know so well. The one trying to not give a damn when not giving a dam really makes you seem like you know, you give a damn.*
This film has come from a place I feel the Great Gerwig knows. That she was once a teen struggling through adolescence but making sense of it along the way, learning lessons one step at a time
THERE ARE TOO MANY GIFS TO USE
FIVE STARS FOREVER